♥ ♥ ♥ ♥ ♥ 50 Shades of Red ( or maybe just 5) ♥ ♥ ♥ ♥ ♥
To all of you Valentines Day haters, it's only what you make it to be.  If you feel like Valentines Day is just the corporate world trying to take your money for unnecessary gifts, that's fine.  But it doesn't have to be about the gifts, or the chocolates, or the big giant dust collecting teddy bear.  It's a day to celebrate love.  Any way you see fit.  Just like your birthday is a celebration of the day you were born.  You know you were born, and you know you're living every day but it's nice to stop and celebrate yourself.  Let Love Live
It may seem cliche to some of you but part of the fun of being a woman is dressing up and celebrating yourself.  There is something about red that feels powerful. Here are some of my picks on some sexy lingerie.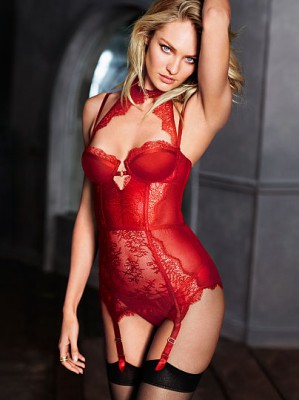 This piece is a Chantilly Lace Merrywidow from Victorias Secret Very Sexy Collection.  This piece is bold and daring.  It has great support and obviously anything that has garters just says something in itself.  For $88 it comes with a matching v-string.  Not too bad for a sexy piece!  Victorias Secret Lace Bustier
My next choice is from Fredericks of Hollywood.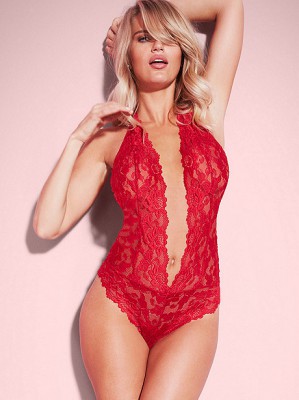 There are so many reasons why I love this lace Teddy.  This just flatters so many different body types.  It doesn't reveal much but it very seductive.  I say what is more feminine than a woman's beautiful mind and body. This piece is only $29.  Just LOVE!!! Jessica Lace Teddy
My next choice is the Dita Von Teese @ Nordstrom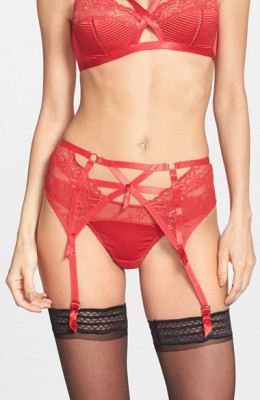 Strappy and Lace? Why not?  I love how it hits the bottom of the belly button giving it the high waisted look.  The bra is extremely sexy and doesn't leave your breast looking like over rising dough in a bowl.  They don't spill out of the top they are right where they should be!  The garter belt is $52 and the bra is $70
My next pick will have to be a La Perla piece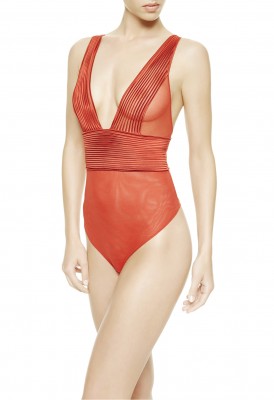 It is definitely a little on the pricier side at $468 but who can blame them?  This piece is simply breath taking.  Made by Tulle Nervures in Italy, it is hand ribbed tulle and stretch silk satin.  The ribbed tulle is in place at the smallest part of your waist as to flatter your curves.  Wait until you see the back!  La Perla Bodysuit, can I have you?
My next pick is La Perla as well.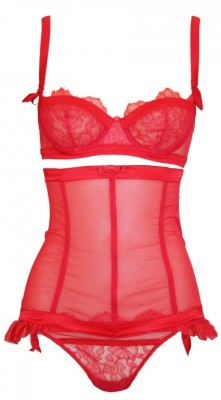 I don't know where to find it, but if you see it let me know!!!
Last but not least, this piece is not red, BUT it is so beautiful and so romantic I just had to include it!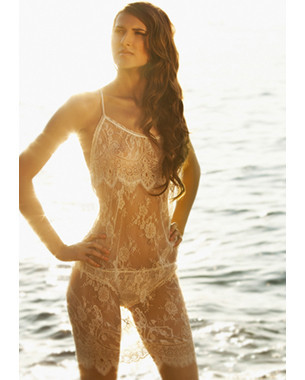 This Shell Belle Couture Flapper Lace Set is Stunning!!  It is a limited edition vintage slip. I am just completely in awe by it!!  It comes with matching lace bow panties.  It's $314 but I would gladly give up my change for this timeless piece.  You can find this at The Hope Chest in Philadelphia or on their website.
Ladies, it's not really about the clothes or the lingerie.  It's about how you feel.  Expressing yourself every way possible.  Living and loving!
♥ Love ♥

Dollface
xoxox