Beautiful At Any Size
For most of us, finding the perfect lingerie is frustrating! Women have so many different body shapes and sizes.  We try stuff on and pick ourselves apart.  I've picked 5 pieces of plus sized lingerie that I think are fun, sexy and soft.

My first choice is Ashley Grahams convertible lace top bra.  You can find it on Ashley Grahams website: Ashley Graham
The lace detail is gorgeous!  It goes for $75 but right now there is a buy one get one 40% off. 
My next choice is a little softer.  It can serve as an everyday piece so it makes it worth spending money on. 

This beautiful set is from Adore Me.  It's $49.95 for the set.  It has a vintage elegance to it with the button and  lace accents.  Adore it!!
My next choice is a chemise from

Hips & Curves.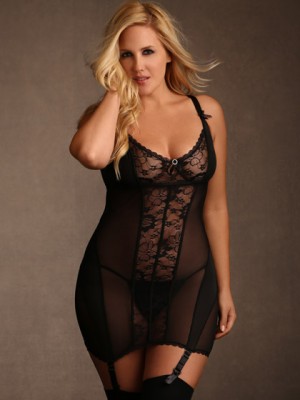 AND it's only $39.95 .  The lace accent down the middle gives that extra sexy indulgence.  I can image wearing it under a dress and feeling seductive secretly sexy.
Romper, Lace, Silk + Sexy =

Lane Bryants

Lace Cup Romper

Well hello plunging neckline!  Lane Bryant sassed me with this romper!  It's $44.95 but you can get 30% off with the code: springlb  It's fun and sexy and did I mention sexy? Yes sexy!
Sexy Romantic Elegance

This sexy gown from Spicy Lingerie is just amazing!  It's on sale for $33.95 and trust me when I say I would pay triple!  It is so sexy and sheer and the lace detail adds that hint of romance.
To all of the women out there, you are beautiful at any size.  Let the inner beauty shine out.  Go into anything you do for yourself with positive thoughts.  You deserve to feel good about yourself ALWAYS!
XOXOXO